For pool enthusiasts, getting the right snooker cue having the right length and weight is a matter of life and death; a little deformity can mess up your precision leading to missed shots. Therefore, no matter how skilled you are at aiming scores, the tool must compliment your skillset to become a pro. That being established, we have constructed a guide to purchasing the best snooker cues on the market.
Best Snooker Cues
1)      CUESOUL Handcraft 3/4 Jointed Snooker Cue
With a perfect length of 57", it can be held at any tactical position firmly. But for better aim, CUESOUL comes with an extension to play the trickiest shots with ease. The weight and length ratio are perfectly balanced, which means playing won't be a hassle.
The product comes with four durable and sturdy splices, and the butt is made with walnut ensuring strength and longevity. To make it last even longer, the aluminum cue case protects it for accidental deformities. The tip size is around 9.5mm, big enough to hit the most powerful shots accurately.
Pros
The length and weight are excellent for any user.
The walnut made butt gives a sturdy feel.
It gives out high-quality stroke play.
It is highly durable.
Cons
The grip is pretty slippery.
The tips are not as sturdy as the rest of the body.
Check Reviews & Buy Now on Amazon
2)    BCE Snooker Cues – HER-300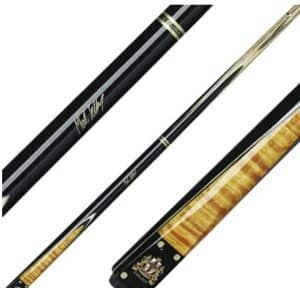 The standard length of 57" ensures proper handling. The feature that makes this stick stand out is its flexibility; you can choose any weight between 18 to 20 oz and tip sizes between 8.8 to 9.6 mm. Therefore, you would be able to go with your personal preference.
During play, outstretching can be a risky move. You can avoid that by using Youse Pool's butt extension that gives you extra length to make a tricky hit. Moreover, it is fitted with four splices designed with Canadian ash.
The product comes with a decorative leatherette case having the sole purpose of protecting your cue and its extensions from environmental hazards.
Pros
The external length can come handy on many occasions.
The artistic casing surely attracts some eyes.
You have many flexible options.
It is strong and durable.
Cons
The tip is not smooth.
The cue gets loose sometimes.
Check Reviews & Buy Now on Amazon
3)     Mark Richard 3/4 Piece Handmade Snooker Cue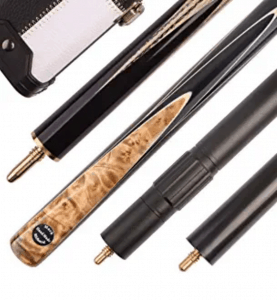 It is clearly a blend of traditional and modern cue designs having an artistic appearance. The butt has 4 secondary splices with vibrant colors while the shaft gives out an antique feel. It is perfectly straight with a length of 57," and you couldn't be happier with its quality.
While the instructions may say that the tip might need to be shaped before use, but it is not necessary — the cue can be used right out of the box. It comes with a butt and telescopic extension to give you a helping hand on the pool table.
It is available in a range of weights from 18 to 19.5 oz so, you can select as per your personal choice. The cue comes with a black and white leatherette case that ensures it retains its original shape.
Pros
The quality of the material is top-notch.
You can choose the weight of your choice.
The artistic looks make it stand out.
The extensions come in handy a lot.
Cons
Without the case, it is pretty vulnerable and can deform with a single fall.
The tip is not durable.
Check Reviews & Buy Now on Amazon
4)     BCE Two-Piece BLUE Mark Cue
We couldn't just leave this state-of-the-art cue behind because of its impressive looks and top-notch quality. You can get it in a number of weights ranging from 18-20oz, which is a pretty convenient option to have, especially for players having specific preferences. While the length measures a little over than 57″.
Overall, it feels nice, and the butt extension is sturdy and does not get loose even with a vigorous motion. The bluish finish sets it apart from the rest of the cues in the list — not to mention the logo, which looks flashy. Moreover, it comes with a butt protector that safeguards the stick from
Pros
Rubber butt adds an extra layer of protection.
It is available in variable weights.
It has a unique design with a smooth finish.
The shaft is made with high-quality ash grain.
Cons
Some areas feel rough, but it doesn't affect the play.
It gets slippery with sweaty hands.
Check Reviews & Buy Now on Amazon
5)     Weichster 3/4 Snooker Cue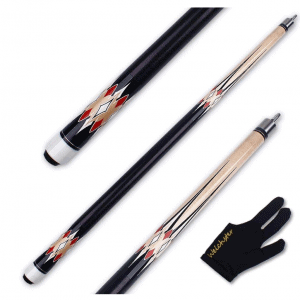 This smartly designed cue can be an asset to your collection, giving the fact that it has some immensely helpful features — one of them being the weight range of 17.5 – 19.5oz. Also, you can select the size of the tip, which varies from 9.3mm-9.5mm.
Weichster is assembled with 15 splices, which adds up extra protection in the overall construction. Form butt to the shaft, the stick is smooth without having any rough edges, and it gives out a strong feel while playing a shot. Manufacturers have thrown splices of real wood, which ensures longevity.
Pros
The range of weight is ideal for professionals.
It does not slip during shots.
The overall construction is sturdy.
It is an economical option.
Cons
It does not come with a warranty.
The casing is small to incorporate all its extensions.
Check Reviews & Buy Now on Amazon
6)     Riley METALLIC BLUE 2pc Cue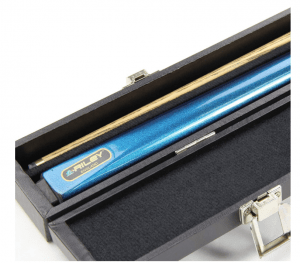 It's a masterpiece having hybrid functionality for both pool and snooker — the quick release central joint is behind its dual nature. The tip is lined with 9.5 mm leather, which ensures that you hit the right point on the cue ball. Its overall length is 57″ with the wider end protected with rubber butt.
The metallic blue butt is the signature of this product, which not only feels sturdy but has a durable polish over it. The 28″ shaft, on the other hand, reflects resilience and strength due to its brass ferrule ash construction.
It comes with a casing having a protective layer of vinyl to deflect moisture. On the inside, the case has a divider that separates the stick from the extensions so that they don't bump into each other.
Pros
The rubber butt gives additional protection.
The water-resistive casing deflects moisture.
It has a perfect length for the shaft.
It looks impressive.
Cons
Due to the metal handle, it is heavy.
The vinyl protective layer dissipates with time.
Check Reviews & Buy Now on Amazon
7)     Jonny 8 Ball SPIDER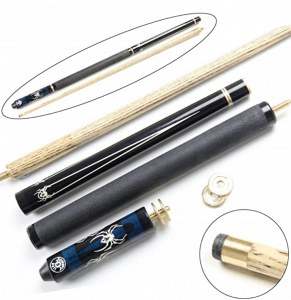 The optimum length is essential for playing snooker, but it is a hassle to carry it around. Behold Jonny 8 cue, which can be shortened from 57″ to 47″ due to its removable parts. Also, it comes with many removable brass weight rings giving the wielder full control over the characteristic elements.
Its hybrid nature attracts a wide audience, as you can shift the butt from the longer end to the middle section and get into the pool matches. Further, the strength of the shaft is unquestionable — made from Grade 'A' North American ash.
Pros
The resizable option is a dream for many people.
The shaft is made with durable material.
It has a strong grip.
Cons
The rubber grip sometimes annoys.
Check Reviews & Buy Now on Amazon
8)     Grand-Handmade 58″ Cue
Its unique design immediately attracts eyes. The cue feels extremely light in hands, giving you full control over the tool. Moreover, it comes with an extensive butt that gives you an additional length to play difficult cue balls. The lightness and fluidity of this product ensure that your skills are not held back.
It has everything you look for in a quality cue — a strong and durable Canadian Ash shaft, a 9.5 mm tip for precision, and a variable weight range 18-20oz. What's more, it comes with a casing that is lined with a moisture resistive finish.
Pros
It is extremely lightweight.
It is easy to handle.
The shaft feels strong.
Cons
The case is small.
It is vulnerable to bumps and impacts.
Check Reviews & Buy Now on Amazon
9)     BCE 2 Piece Ash Pool Snooker Cue
Just like many others on our list, it also has a hybrid nature due to its quick-release central joint — suitable for both pool and snooker. The shaft is made with Grade 'A' North American ash with an optimum length of 28.35".
Another advantage of having this cue in your collections is its rubber butt protection. No matter how many times you bump the end with the pool table, the stick is going to endure.
Pros
Butt has a defensive rubber.
It has a dual nature.
It is available in different weights.
Cons
It chips fast.
It has some rough edges.
Check Reviews & Buy Now on Amazon
10)  Riley RONNIE O' SULLIVAN 2pc Ash Snooker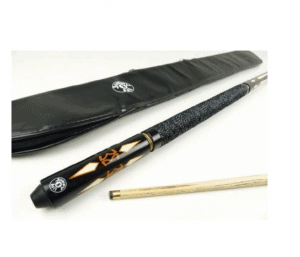 It is worth trying because of its Ebonized 4-point butt, Elkmaster leather stick-on tip, and an aesthetic feel, which helps raise the confidence of the wielder. Out of all of the cues that we have reviewed so far, it is the most traditional looking.
It has a relatively smaller length of 52″ only good for a specific audience. Moreover, it comes in different weights 17.5 – 19oz, giving you many options to choose from.
Pros
It has impressive looks.
The grip is smooth.
The butt is protected by rubber.
Cons
The butt is relatively thinner.
Check Reviews & Buy Now on Amazon
Buying Guide
Material — shaft and butt
Commonly you would come across two types of shaft wood — maple and ash. Both work fine, but maple has a slightly upper hand. While for the butt portion, we would recommend you go for rosewood or ebony and make sure the butt has the standard width; otherwise, it would feel awkward.
One-piece or two-piece cues?
Both have certain benefits as one-piece cues are considered to be sturdier than the jointed ones. While the two-piece ones are easier to carry around, in our opinion, you would go for the two-piece cues because of their convenience.
Protection
Some products come with extra layers of protection, as we discussed before. Make sure the butt has a rubber safeguard as it is the part that frequently bumps into things.
Design and Appearance
That is an entirely personal preference, but let us make one thing clear; the flashier the design, the more expensive the cue will be. Therefore, choose wisely.
Conclusion
We have shared a variety of versatile cues having some impressive features. Some tops other in dexterity while some have better looks. But one thing is undeniable; every one of the cues mentioned above serves its purpose one way or another.
Out of all of them, we have selected CUESOUL 3/4 jointed snooker cue, which has everything you need to upgrade your skillset. It works both for people with intermediate and expert level skills, but if you are just working to increase your aim, then look for a cue with a smaller tip say between 8.7 – 9 mm.