If you are a beginner, you must be trying to improve your hits. Taking your game to a better level is not possible without a best cue stick. Getting your hands on the most advanced and expensive pool cue is not going to help.
As a beginner, you need to start at a smaller level. For that, you should get a beginner pool cue. However, with no prior experience, picking the right beginner pool cue might be challenging.
Well, you have landed at the right place. We have gathered the top 10 best pool cues for beginners. Read on, and you will know which can potentially be your best pool cue.
Things to Look for in a Pool Cue
Before you look for a cheap pool cues you need to know some important things that make a huge difference. This helps you judge the performance and suitability of a pool cue. So, keep the following factors in mind:
Tip
The tip is the most crucial part of a cue. A softer tip adds more feel while a harder tip lasts longer. For beginners, softer tips that size either 12 or 13 mm is best.
Wrap
Wrap, also known as grip, lies below the tip. It ensures the cue does not slip out of your hand. For beginners, having this hard grip is essential.
Straightness
A straight cue is all you need to make a perfect shot. However, even a straight cue warps over time. It depends on manufacturing, though. Getting a pool cue from a reliable manufacturer offers a durably straight cue.
Weight and length
Lighter the cue, better the shot. This holds especially true for beginners. Pool cues usually weigh between 18 and 21 ounces. As a beginner, pick 18 or 19-ounce cue.
The average length of a pool cue is 59 inches. Choose the one according to the space you play in.
Top 10 Pool Cues for Beginners
For beginners, there are lesser pool cues out there. However, we understand the struggle of starting out. So here we have the top 10 pool cues for beginners:
Players C960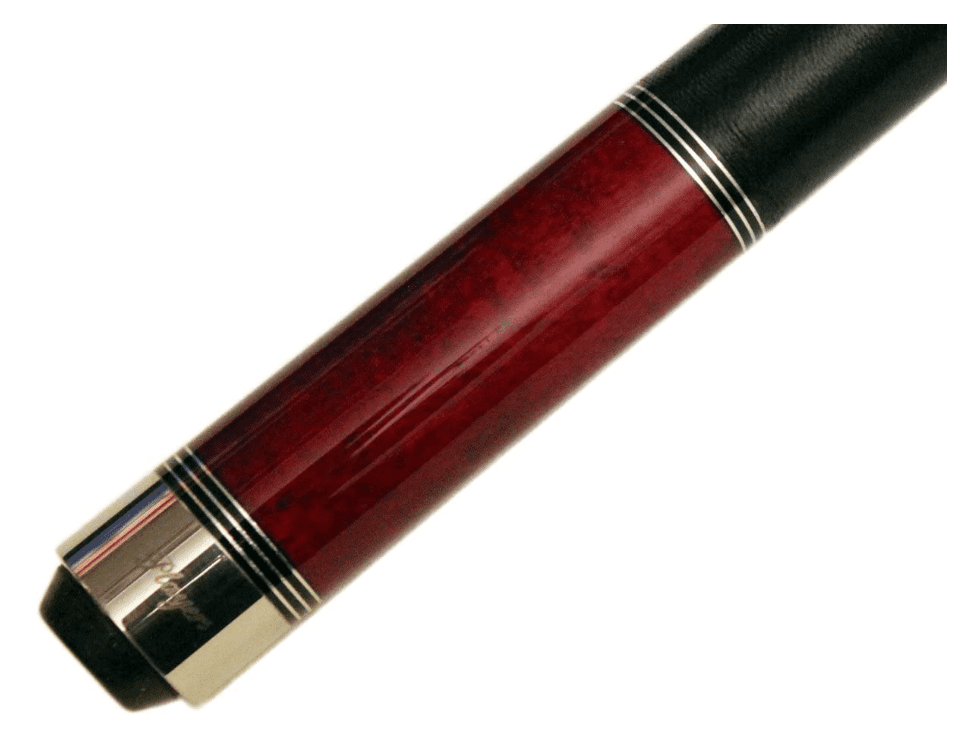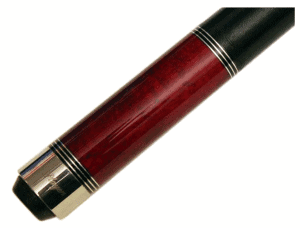 Players C960 is a 2-piece cue that makes it very versatile. It is 58 inches long and comes in 4 different weight options. Buyers are free to choose the one that's comfortable for them. However, we strongly recommend 19 ounces.
It comes in a classic design and crimson color with a UV gloss finish, giving off a very sleek look. Made of hard maple wood, it is quite sturdy. Its Le Pro tip is 13 mm in size and offers a great hit.
The wrap is made of double pressed Irish linen and helps absorb maximum moisture. The stainless steel joint further adds to the strength and control.
Pros:
Le Pro tip for greater control

UV gloss finish

Warp resistant
Cons:
No case included

Some people might not like classical look
Check Reviews & Buy Now on Amazon
McDermott Lucky L9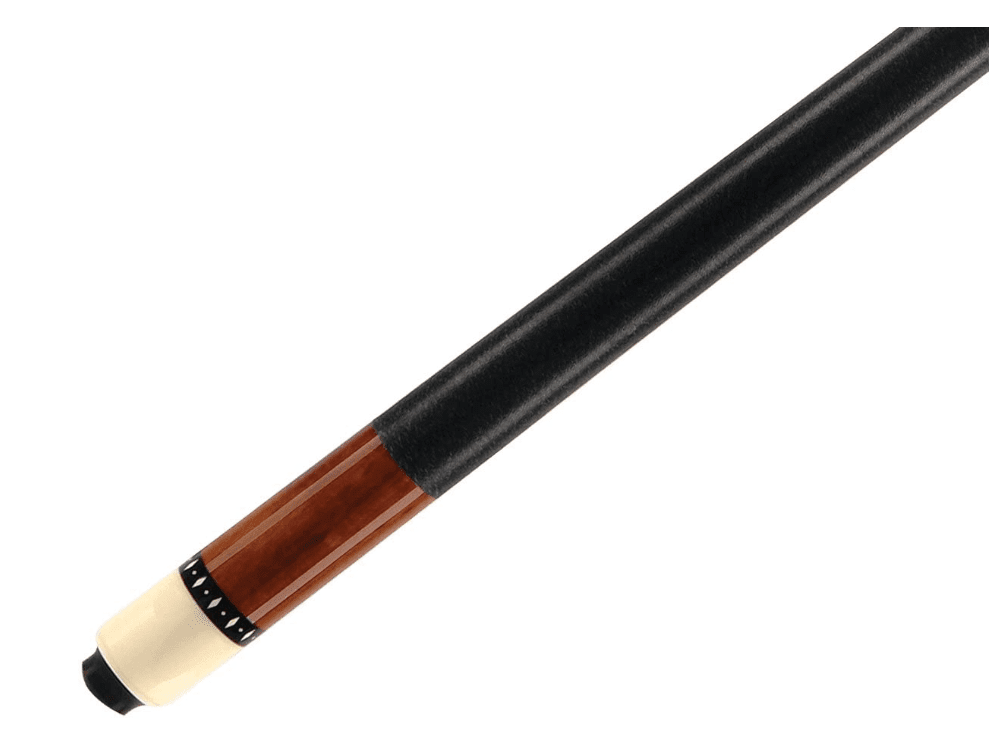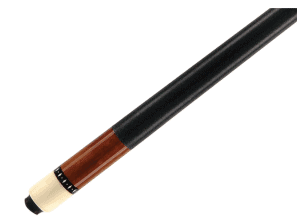 McDermott Lucky L9 comes as the most stylish yet affordable pool cue. Being a two-piece cue, it is very advantageous for travelers. Weighing between 18 and 21 ounces only, it has an average weight and makes a good cue for beginners.
Manufactured of hard rock maple, get ready to have some hard hits. The material is exceptionally durable. Also, its 13mm tip and Irish linen wrap offer a solid grip. It works amazing for players who sweat a lot.
With 3 years of manufacturer's warranty, you will love to invest in this pool cue. It features great grip, durable material, and superb performance.
Pros:
Irish linen wrap for great grip

Controls moisture

Offers hard hit
Cons:
Does not include joint protector

Needs weight specification
Check Reviews & Buy Now on Amazon
Lucasi Custom Birds-Eye Maple Sneaky Pete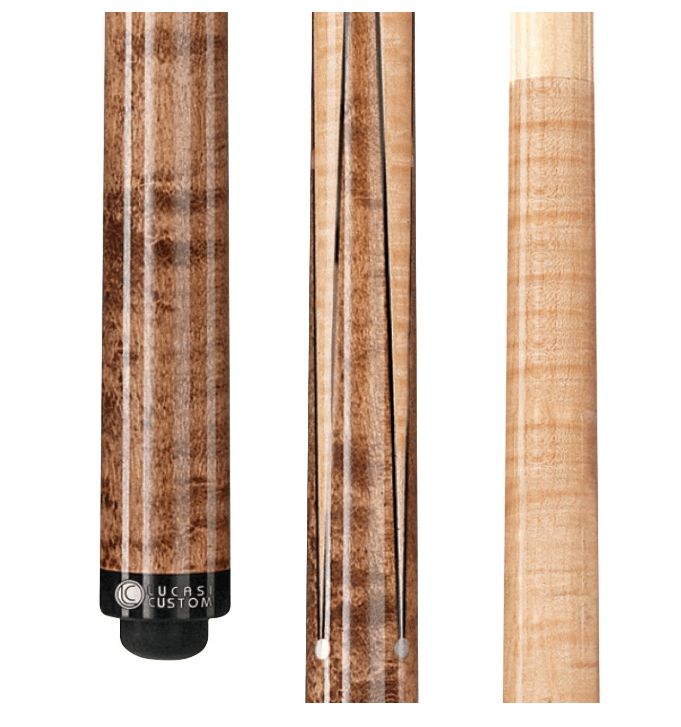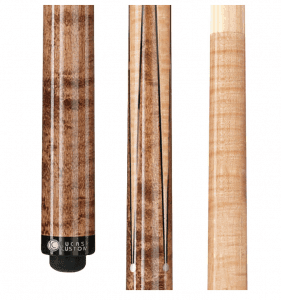 Lucasi Custom is a well-reputable name in the house of pool cue manufacturers. Its Birds-Eye Maple Sneaky Pete pool cue features impressive design and performance. Made of maple wood, it is definitely a sturdy piece.
The tip is made of fine leather, which offers medium control and less maintenance. Its uni-loc pin along the wood-to-wood joint is a unique feature that makes the cue hit softer and break quicker. Given the wrapless design, this feature is great for a fine grip.
Also, the weight is adjustable. As it comes with a lifetime warranty, you won't regret investing in this pool cue.
Pros:
Uni-loc pin

Durable construction

Leather tip
Cons:
Wrapless design

Needs the practice to hold
Check Reviews & Buy Now on Amazon
Viking Vahalla 2-piece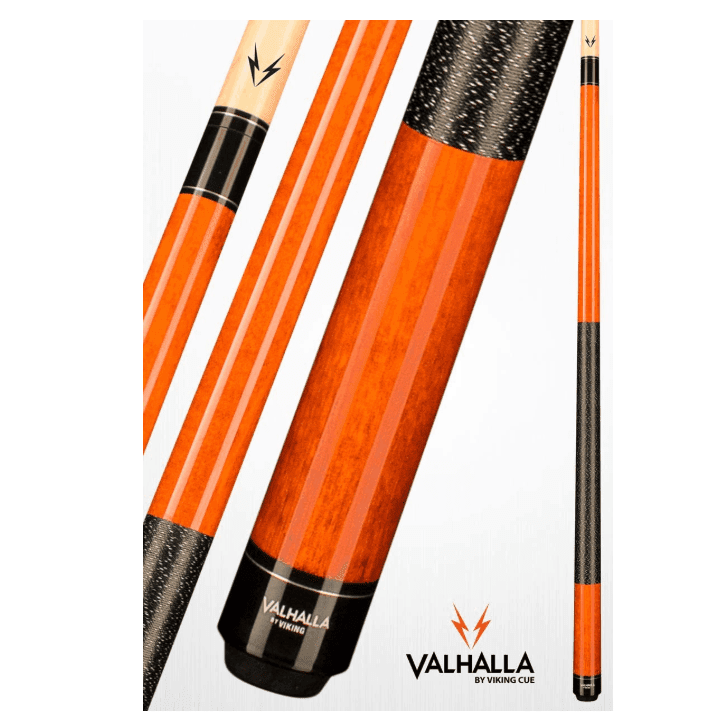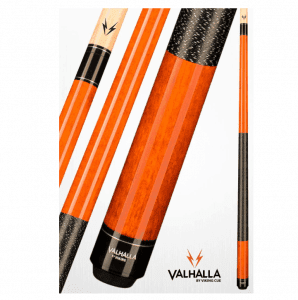 Viking Valhalla is another 2-piece pool cue that features 58″ length. This size is good enough for medium-sized spaces. When it comes to weight, this pool cue offers various options to choose from. As per your comfort, you can go with any weight between 18 and 21 ounces.
The material of this pool cue is hard rock maple, which ensures strength and firmness. The tip is made of leather and is 13 mm in size. Also, it is quite an in shape. There is no specific material for a wrap, but overall, it provides a comfortable grip.
However, with the leather tip, you might experience difficulty in the beginning. It does not allow greater control. Otherwise, this pool cue is one of the best for beginners.
Pros:
Good length

Weight options available

Strong and sturdy
Cons:
Tip offers less control

The leather tip might be too hard for beginners
Check Reviews & Buy Now on Amazon
Players Classic Birds-Eye Maple Triple Silver Rings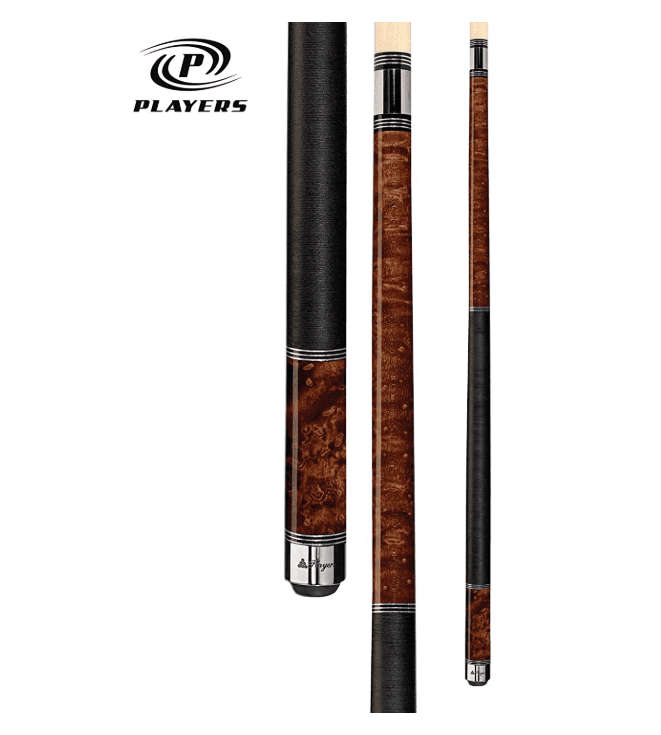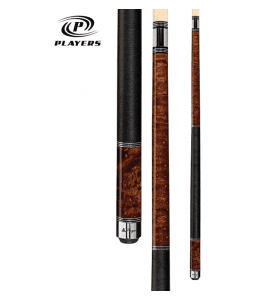 Players Classic Birds-Eye Maple Triple Silver Rings is an impressive 57" pool cue. From construction to design, everything is just great.
This pool cue features maple construction, which makes it quite strong. Its wrap is made up of Irish linen that absorbs moisture and provides slip-free control. It offers a great grip to beginners and sweaty players.
Le Pro tip is professionally designed and is 13 mm in size. The hard oak leather tip often makes it hard for beginners but delivers good performance overall. It comes in different weights to choose between. Pick 19 ounces cue for a comfortable experience.
Also, it provides a lifetime warranty that is one good reason to get this cue.
Pros:
Slip-free wrap

Variety of weights to choose from

Lifetime warranty
Cons:
57" might be small for some

Hard tip
Check Reviews & Buy Now on Amazon
Viper Commercial/House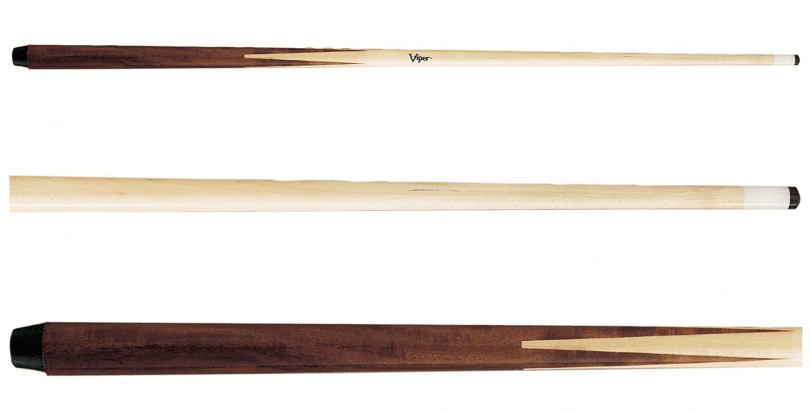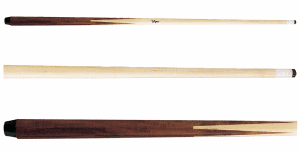 Viper Commerical/House pool cue features high-quality construction, and that's the major reason why we included it in the list of top 10 best pool cues.
Other than that, it is 57 inches long and weighs 20 ounces. While it is not the most lightweight cue, the length is great for tight spaces. It is manufactured of Canadian maple, which is a hard and sturdy material.
For added protection, it has 9 layers of varnish. This delivers higher durability and solid make. However, it is a one-piece cue and comes without the wrap. This might not let you exert greater control.
Pros:
Good for smaller spaces

Sturdy construction

Added durability
Cons:
Check Reviews & Buy Now on Amazon
EastPoint Graphite Sports Composite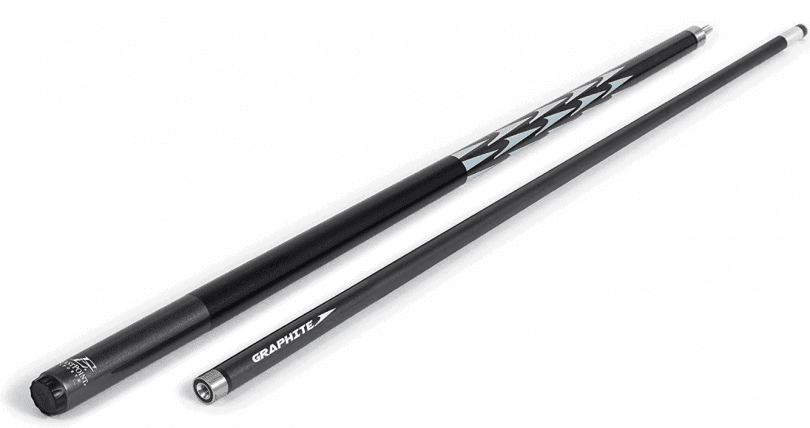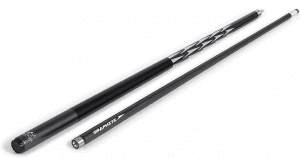 EastPoint Graphite Sports Composite pool cue is one of its kind. Made of fiberglass, this material looks like metal but weighs light enough. 20.1 ounces might not be preferable for beginners, but this one is an exception. You won't feel much difference in weight.
With reinforced titanium, this pool cue becomes warp-resistant. This means you are going to have your cue in straighter shape for a longer time.
With a screw-on 13 mm tip, you might not be expecting high-level performance. But, due to aluminum ferrule, this pool cue offers shock absorption allowing solid hits. Overall, this pool cue is good enough for beginners who like to practice a lot at home.
Pros:
Fiberglass composition

Titanium finish for warp resistance

Aluminum ferrule
Cons:
Screw-on tip

Only good for at-home practice
Check Reviews & Buy Now on Amazon
Viper Junior Dragon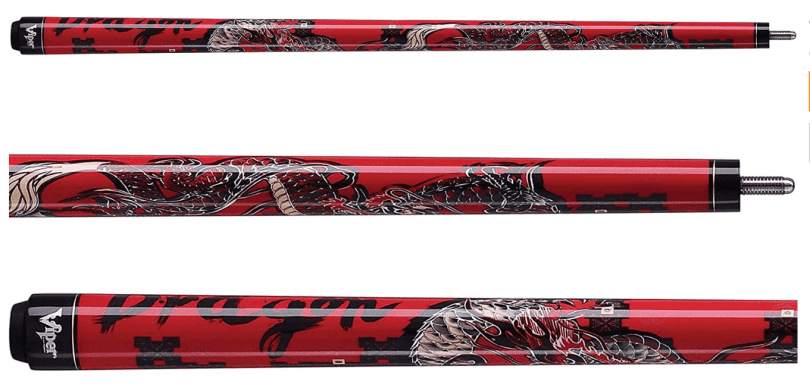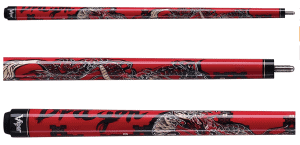 Viper Junior Dragon is the most lightweight pool cue on the list. Weighing 16 ounces only, this is the best cue for a teenage player or even younger. The best thing about this pool cue is that it does not compromise the performance.
It features an artistic dragon design that is quite impressive and catchy. It adds to your impression if that's one thing that you worry about on the table.
It is quite durable, thanks to Canadian maple wood construction. Also, it has stainless steel rings near the leather tip that adds to the control. Being a 2-piece pool cue, it is great for traveling.
Coming at an affordable price, it is a great cue for beginners overall.
Pros:
Lightweight

Budget-friendly

Impressive design
Cons:
No wrap

Only good for the beginning stage
Check Reviews & Buy Now on Amazon
AB Earth 2-piece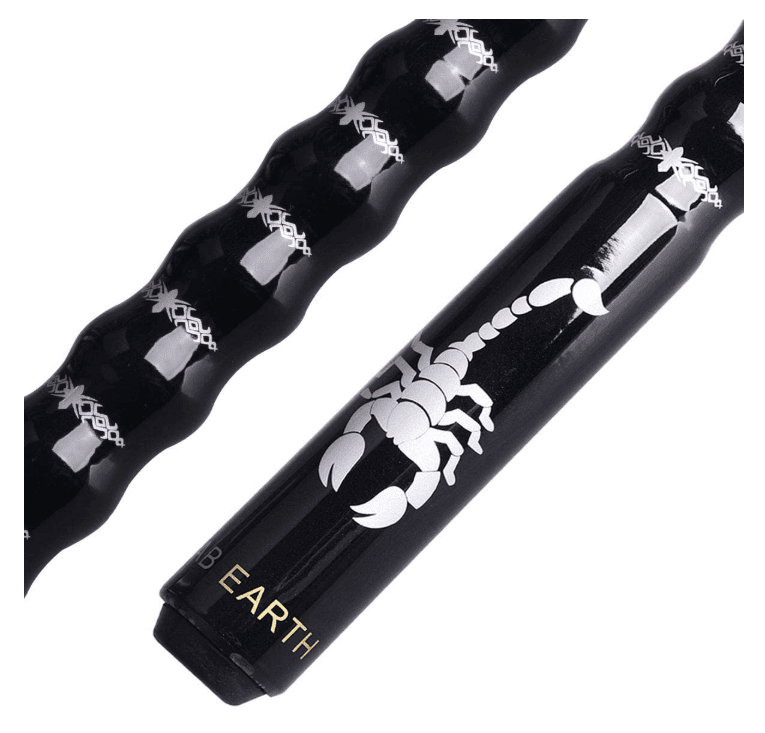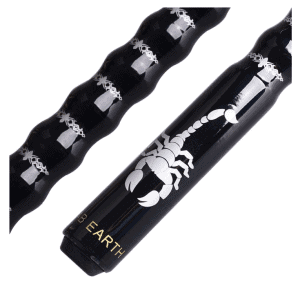 AB Earth 2-piece is a versatile and ergonomic pool cue. It is made of Canadian maple wood, which means this pool cue is hard enough for solid hits. It is 58 inches long and offers an adjustable weight. You can pick any cue between 19 and 21 ounces.
Its wrap comes with a linen butt that adds to the firm grip and control. The wrap has a wavy shape that provides extra comfort and anti-slip functionality. Beginners have loved this feature a lot due to the stability and control of this pool cue offers.
Its 13 mm tip gives off a softer feel, which renders great hitting experience. This helps you learn better shots in lesser time.
Pros:
Ergonomic design

Wavy shaped wrap

Maple hardwood construction
Cons:
The handle has a slight indentation

Good for casual play only
Check Reviews & Buy Now on Amazon
Imperial Premier Cyclone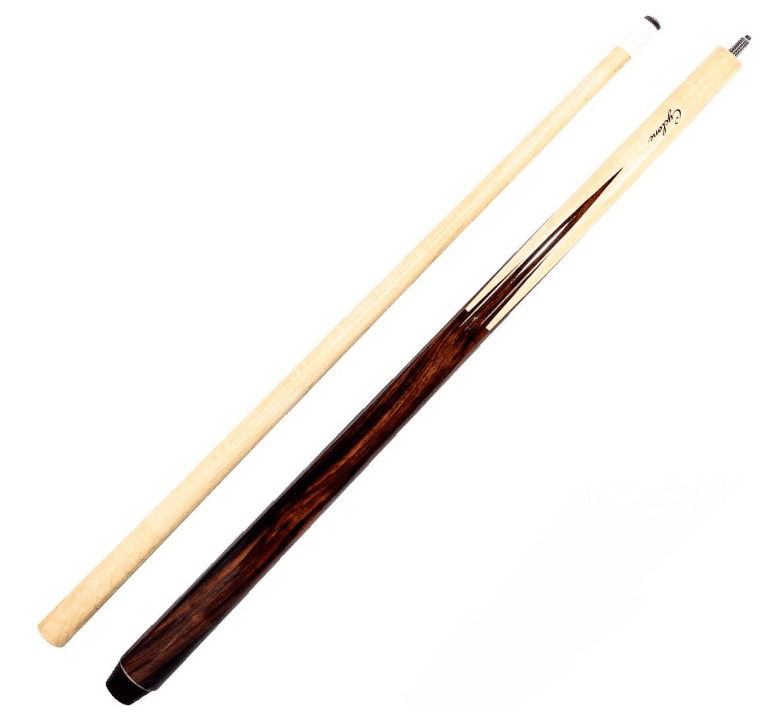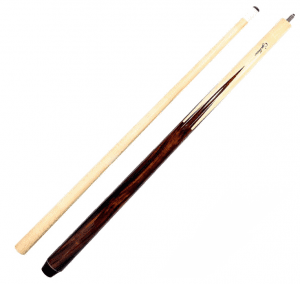 Here we have another amazing pool cue on the list. Imperial Premier Cyclone pool cue is made of North American maple, which is a durable hardwood. It has a solid construction and offers a great learning experience to beginners.
It is a 2-piece cue, which makes it a great option for all-time travelers. When it comes to the length, you can choose among 42″, 48″ or 52″ sneaky Pete pool cue. These weigh 18 ounces and are lightweight.
The warp is made of polyurethane, which offers a nice grip. However, some players experienced problems with the joint. Also, it is not as straight as the manufacturer claims. This makes it a satisfactory pool cue for kids. If you are a serious beginner, you better consider other options on the list.
Pros:
Lightweight

2-piece

Durable construction
Cons:
Faulty joint

Not so straight
Check Reviews & Buy Now on Amazon
Buying Guide
What are the best materials for pool cues?
Pool cues come in a variety of materials. As far as manufacturing is concerned, pool cues are either hand-sliced or machine-sliced. Along with the construction material, it makes a great difference to the performance. Some of the best materials for pool cues include:
Maple.

Maple is a wooden material that differs in quality from one cue to another. Out of all, Canadian maple wood is known to be the high-quality material.

Ash.

Ash is another wooden but less common material. Cues made of ash are quite strong and sturdy.

Plastic.

Plastic cues are good but do not offer great control.

Metal.

Metal cues are quite popular. However, these tend to be quite heavy and are not good for beginners at all.

Fiberglass.

This is a newer composite material that feels like metal but weighs just like maple. It makes durable and strong cues.
What are some top brands to buy pool cues?
There are several pool cue manufacturers out there. However, some reliable and reputable ones are:
Lucasi Custom

McDermott

Players

Viking

Cuesoul

Viper

Imperial

EastPoint
What are some additional factors to consider?
As much as you know about pool cues, you will get better at picking the right one. If you are looking for some additional factors to keep in mind, these are:
Quality.

The quality of a pool cue determines its performance. Also, high-quality cues ensure lesser maintenance. Spending a lot of time on maintenance poorly affects your practice.
Construction.

Having a sturdy and durably constructed pool cue is essential. This adds to your learning experience. As for a start, identifying the best construction is challenging. However, good weight, right length, and straightness are some determining factors.
Price.

Yes, it is important to consider the price. Especially for beginners, it is not wise to invest in some expensive pool cue. Always prefer comfort over higher price and looks.
Final Thoughts
Getting the perfect pool cue is important for beginners. It plays a great role in your performance and skills in the early years.
So when it comes to the winners, we couldn't agree on a single winner. It's a tie between Players C960 and McDermott Lucky L9. Both of these pool cues make a considerable purchase for beginners.
Each of these has impressive features and solid construction. These are going to add to your learning experience greatly. Being budget-friendly these will not put much strain on your budget either.
So what are you waiting for? Keep important factors in mind and get the one that goes best with your needs.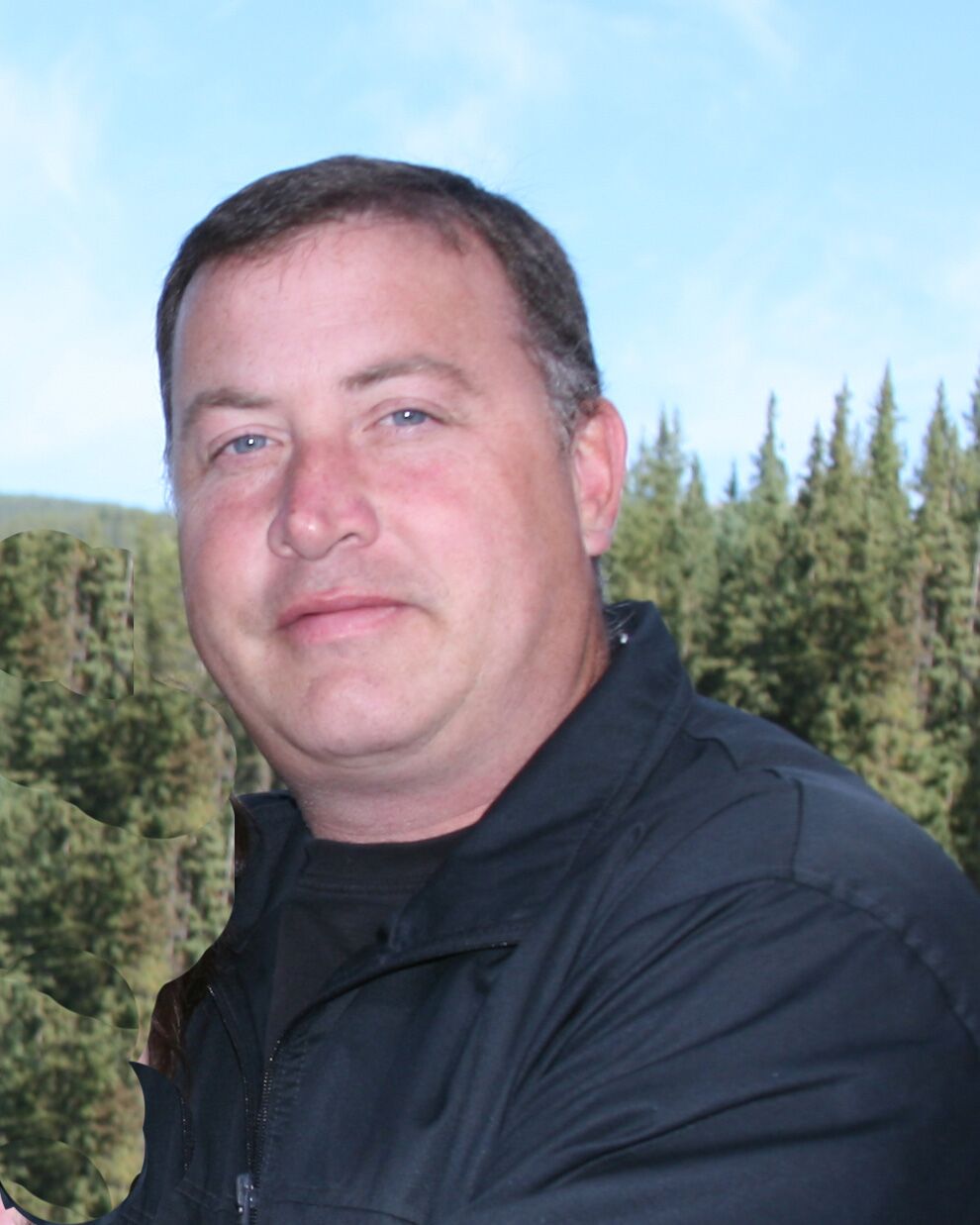 Self Professed Geek , into all kinds of tech including search engine optimization , Computer networks and more. I love playing pool ( eight ball , nine ball and snooker) I own my own pool table a play daily. I love to try out new pool cues and accessories. read my review of actual pool cue i have used and use often.